Click the rain cloud

to read our "Rain Rollover Date Policy"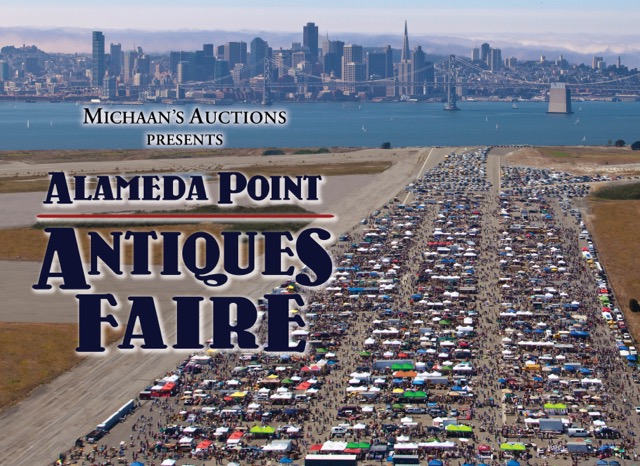 Email: antiques@michaans.com
Contact Us

Antiques By The Bay, Inc.
Phone: (510) 522-7500
Fax: (888)-500-1805

Mailing Address
PO Box 430
Alameda, CA 94501

Show Location
3900 Main Street, Alameda, CA 94501
Enter at the end of Main Street
Runway 7/25 Alameda Point

Office Location
2700 Saratoga Street
Alameda, CA 94501
Get Directions

Office Hours
M-F 9:00 AM-5:00 PM
PLEASE NOTE: Our office is closed on the Monday following the Faire.
The Alameda Point Antiques Faire has established a new Rollover Show Date Policy.
If a show is rained out we will automatically schedule a make up show for the following Sunday, the 2nd Sunday of the month. The Rollover date will only be scheduled if the show is cancelled by show management.
Check the website to see the status of the show. Look for your favorite dealers in their regular spots, as most of them will be there. We still hold the show in light rain, so how do you know if the show has been rescheduled? There are 3 ways to get this information:
Check the website for updates before the faire. We will post a notice that the show has been cancelled, along with the rescheduled date.
Sign up for Antiques Faire information. You can sign up on our website to receive email notifications for show reminders, information or rain updates. Look for the registration box on the main page of our website https://alamedapointantiquesfaire.com.
Call the office to hear updates on our outgoing message. 510-522-7500. So rain or shine we will see you at The Point! If it's a rainout show, we hope to see you on the 2nd Sunday of the month!
If it rains on the 2nd Sunday we will NOT have another rollover. The show will be held on its regular day, the 1st Sunday of the following month.